Ceylan Shevket Jawara is currently the Head of MPC University and was previously the Head of Technical Animation at Academy Award winning VFX studio MPC (Moving Picture Company).
MPC are the people behind the Visual effects of countless blockbuster movies including the Harry Potter franchise, X-Men, Maleficent and Oscar winning The Jungle Book.
As Head of Technical Animation, Ceylan managed a team of Visual Effects Artists who help bring filmmakers visions to life, animating everything from fantastical creatures, to dynamic crowd simulations and larger than life scenes of destruction.
With more than 10 years experience working on major feature films, Ceylan's filmography includes Harry Potter and the Half Blood Prince, The Chronicles of Narnia, Clash of the Titans, Life of Pi and Disney's latest adaptation of The Jungle Book.
In her current role as head of MPC University she is focused on training and upskilling artists across four global sites and 18 artistic disciplines.
Joan Vogelesang is a seasoned consultant specialized in international business development, SME globalization and education.
Ms. Vogelesang has been President and Chief Executive Officer of Toon Boom Animation Inc. from 1998 until 2014. Under her leadership, Toon Boom continued to maintain its position as a world leader in digital content and animation technology not only in high-end studios but also in education and consumer markets using the online platform.
Ms. Vogelesang has over 35 years of experience as a senior executive responsible for the product design and engineering teams, international business development, customer care and operational management in large and smaller organizations.
Bruce W. Smith is a feature film character animator, director and television producer. He is best known as the creator and executive producer of the Disney Channel hit show The Proud Family and for supervising the animation of the evil villain Dr. Facilier in the Walt Disney animated film The Princess and the Frog.
Smith studied animation in the Character Animation program at the California Institute of the Arts. In 2012, Smith transitioned back into the director's chair at Disneytoon Studios. Smith created and directed hilarious 3D shorts for the Planes,Planes Fire and Rescue and Tinkerbell franchises. Most recently, Smith joined Warner Bros. Animation to develop and executive produce a yet-to-be-titled animated comedy series.
Neil Riley is a freelance Vfx supervisor in the UK. He has 20 years experience working on Vfx projects that cover a huge range of styles and media, from Stop-frame, through 2D to fully CG projects. He has worked on hundreds of commercial projects at passion pictures for the likes of Sony, Audi, Nike, BBC Olympics, Duracell, Toyota, CTM. Hi work include promos for Gorillaz, Robbie Williams, Coldplay and cinematics for the Rockband game series. He has created visuals for some of the largest projection event spaces including, the Burberry launch party in China, Hyundai Fan Dome for Euro 2016, Gorillaz performances at EMA, The Brits and the Grammy's. He has worked on various feature projects most recently creating stop frame animation for 'Miss Peregrine's home for peculiar children' with Tim Burton, and 'Hugo' with Martin Scorsese. 
Caiphus Moore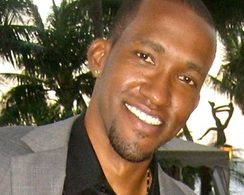 Caiphus is a Trinidadian American artist who currently resides in Oakland, California. He has spent most of his professional artistic career creating artwork for the video game industry and currently works as a Senior Artist for Electronic Arts (EA). A graduate of the Maryland Institute, College of Art, with a degree in Painting, Caiphus has always been inspired by the natural human form. He creates art on a variety of mediums; from traditional canvas to 3D sculpting. His main focus is to create a synergy between his love of fine art, gaming and multimedia.
New media artist born in Cuernavaca, Mexico.  His work ranges from videoart to installations to live performances, mixing visual arts with different disciplines like dance, theater, sound art and performance. His work has been shown in different countries like Spain, Canada, USA, Colombia and Mexico, and has been featured in exhibitions and museums such as the Reina Sofía in Madrid and the Exteresa Arte Actual in Mexico City. Moises is the Projection design director at Medusa Lab, a company specialized in the development of creative concepts to create unique experiences through technological innovation.
Richard Young is well known throughout the Caribbean as a stylist, production designer and was a former judge on Caribbean Top Model. He is the founder/artistic director of his own event management/production design company for the past twenty five(25) years. He has been working extensively throughout the English-speaking Caribbean producing fashion/beauty/arts related events from the Bahamas in the North to Guyana in the South with stints in Miami, New York, Toronto and Montreal.