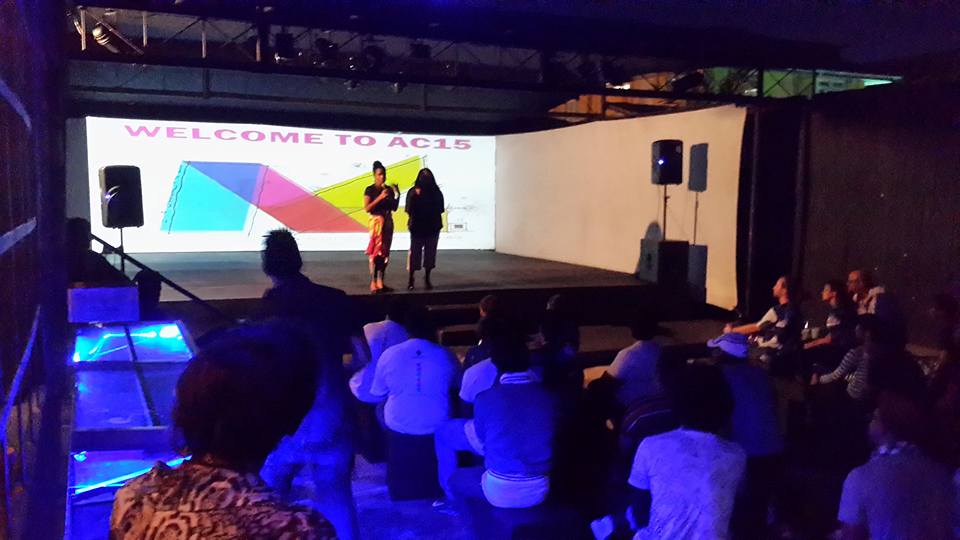 05 Nov

A Special Whirlwind Year – Animae Caribe

"Animae Caribe continues to provide a valuable platform for the development of the Animation industry in the Caribbean. It can be the way of our future and that's what makes it special" said Founder and Creative Director, Camille Selvon-Abrahams about the Animation and Digital Media Festival. "The collaborative, creative, expertise that we have in the Caribbean is tremendous and must be harnessed to propel the industry" speaking on behalf of the Animae Caribe Festival committee, Selvon-Abrahams congratulated the animators, students and business community who supported the festival for 2015.

This year marked 14 years that AC has been in existence, and with its customary flare the festival delivered a fast paced week of workshops by international guests, animation screenings, awards, an expo and a Dark Night – Halloween party. Each year, AC welcomes visitors from the region and across the globe – either as participating delegates or speakers – in the development of animation. This year may have seen the largest collection of regional visitors – from Martinique, Suriname, Barbados, St. Lucia, Jamaica alongside visitors from the United States and England.

Animated Bootcamp 2015

The highlight of this year's festival was the Animation Bootcamp which allowed participants to create and pitch an animation project to receive funding to develop a production bible. "We wanted to do an active experiment this year" said Selvon-Abrahams. "As a Caribbean we are so diverse, so colourful. Why are we not creating content? The Bootcamp is our response – an experiment in stimulation, creation and concept pitching".

The groups were not assigned beforehand. Participants registered and teamed up moments after the Bootcamp was announced. Each group worked along with mentors such as Omz Velasco, Caiphus Moore, Gordon Durity, Alain Bidard, Derek Iverson (all highly respected and well-known film and animation professionals), for four days to ensure that they had what it took to make a good pitch.

In the end, with judging done by Lisa Harding from the Caribbean Development Bank, Gayle Gallop from Caribbean Export and Camille Selvon-Abrahams, the group which called itself Par 5 was selected as winners of the Animation Bootcamp 2015. Par 5, who was mentored by Jamil Agard, General Manager (Ag) of Trinidad and Tobago Film Company (FilmTT), will be working on a children's adventure book. The team included Mathew Hudson (known locally for his design and animation of the Lucozade Stickman), Don Evelyn, Chantel Garcia, Chantelle Lue Che Kong, and Jamaal Baptiste.

Second place went to Dem People and third place went to Coal Pot. A special award was given to Couple 6 of Barbados who each paid their airfare and accommodation in Trinidad, just so they could attend and participate.

Lisa Harding of the Caribbean Development Bank, which sponsored the Bootcamp, said she was blown away with the pitches. "It speaks to the talent we have in the region," she said. "Caribbean Development Bank is extremely pleased to be a sponsor of the Animated Ideas Bootcamp as interventions such as these have the potential to contribute to reducing high youth male and female unemployment in the Caribbean by providing opportunities for capacity building training and strategic networking which can facilitate job creation and promote entrepreneurship. Support to this industry is also critical for the region at this time, as we seek to diversify our economies and leverage the innovation and creativity of our human resources."

Animae Caribe Awards

This year the festival received more than 300 submissions for the various Award categories. Selvon Abrahams added "It is always impressive to see how the international films compare to the locally/regionally created ones. Our Award jury made up of local and internationals professionals had a hard but rewarding experience judging the pieces." This recognition allows many bragging rights for the rest of the year until 2016.

 

At the Awards Ceremony, special mention was made of Kendell Antoni Boodoo who won the Most Promising Animator Award. Kendell, a Form Four student at Brazil High School, was diagnosed with autism at an early age. He is a self taught animator. His one-minute piece that looks at Mom's famous sayings about getting up late, washing dishes and using her stuff was a hit with the audience.

The other winners were:
BEST ART ANIMATION: Nu-Life – Lynn Kim from USA
BEST INTERNATIONAL STUDENT FILM: Watch out & Sublime – Ana Norambuena – Vancouver Film School
MOST OUTSTANDING FILM: The Tie – An Vrombaut –  Belgium
BEST REGIONAL STUDENT FILM: Dance Of The Daring – Danielle Blaize, UTT and The Painting – Jessica Yaw Ching, CliviaVialva, Kadijah James, UTT
BEST APP/ GAME CONCEPT – Project Gordo 1 by Joel Salazar and Brian Perry, Trinidad and Tobago.
Battlefield Chronicles premiers at Digicel Imax
Another milestone at this year's festival was the screening of the first Caribbean full length science fiction animation. Director and creator Alain Bidard of Martinique presented "Battlefield Chronicles" at Digicel Imax. It took him seven years to complete the movie which is placed in the year 2100 when the empire of Mortemonde has colonized Earth and enslaved all countries. The slaves are forced into Battledream, a video game, but only those who succeed are granted the right to live. Syanna, a young Martinican slave, refuses this situation and fights to regain her freedom.
Bidard's fellow Martinicans, Saidou Bernabe and Yoane Pavade gave participants the opportunity to consider animation school in the Region. Perhaps considered the rock stars of AC15 because of the high anticipation of their attendance, Bernabe and Pavade gave young animators hope of staying close to home to study their craft. Parallel 14 is the first Caribbean school that specializes in 3D animation cinema, visual effects and video games. Their work could be seen in money-earners such as The Hobbit, John Carter, Despicable Me, Underworld: Rise of the Lycans and Dark Knight.
Animated Careers
Trinidadians, Caiphus Moore and Gordon Durity, proved that it is possible for animation to be a career. Moore is lead artist at EA Games and Durity is executive audio director at EA Studios. They see Trinidad and Tobago as a creative force that can participate in this international multi-billion dollar industry.
During the Schools day the Animae Caribe Conference room at One Woodbrook Place was filled to capacity with students taking full advantage of the experience in the room. They asked questions about careers in animation, schools available and opportunities for future work.
ASIFA Caribbean
Another first was the creation of the Caribbean leg of the Association Internationale de Film d'Animation (ASIFA) and the election of the regional executive led by Corretta Singer of Jamaica. Singer is also president of the Jamaican Animation and is considered Jamaica's first woman 3D animator. Coretta will be supported by Ted Sandiford from St. Lucia – ASIFA Secretary, Fabien Kong from Trinidad and Tobago – ASIFA Treasurer and Mikael Mootilal from Trinidad and Tobago – Public Relations Officer.
"For ASIFA – this festival provides a melting pot of Caribbean animators, those who are learning and those who are working in the field to stand up and be counted as leaders in the field of Caribbean Animation," Selvon-Abrahams said.
Supported by lead sponsors Trinidad and Tobago Film Company (FilmTT) and the Caribbean Development Bank, the annual festival continues to create a platform for the creation of an Animation industry in Trinidad and Tobago and the wider Caribbean.