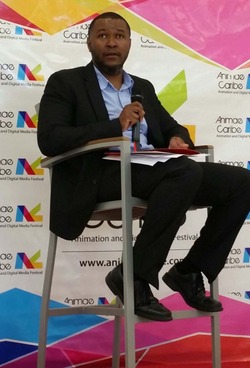 27 Oct

ANIMATION BOOTCAMP – Off To A Great Start!

For the past 14 years, the Animae Caribe Animation and Digital Media Festival has been a project in research and development. What the annual animation festival has identified is a gap between education, training, learning, art and actual production. "The intention is to fill that gap," said Camille Selvon-Abrahams, founder of Animae Caribe.

On the first day of this year's festival, the Animation Bootcamp welcomed all players in the field – from musicians, generalists, animators to artists to be part of an opportunity to work with each other. In addition, some of the guest animators speaking at this year's festival – Caiphus Moore, Emma Allen, Alain Bidard, Gordon Durity – were mentors to the participants of the bootcamp.

"The outcome is a real outcome…because the Caribbean Development Bank (CDB) has funded enough to develop a production bible and allow the winners to take their ideas to Caribbean Tales next year. The vision of the CDB, Caribbean Export and Creative TT is very significant as together, they will allow us to take these ideas and plan further" said Selvon-Abrahams.

The 45 Bootcamp participants from Trinidad and Tobago, Jamaica, Barbados, St. Lucia and Suriname formed groups in order to develop a winning project. These ideas will be pitched before a panel on Friday, a jury comprising of the international mentors and Lisa Harding of the Caribbean Development Bank will decide which group will receive the grant funding.

Jamil Agard, General Manager (AG) of TT Film Company, lead sponsor of this year's Animae Caribe Festival, applauded the Bootcamp for the effort in filling the gap between creation and business development. "The way it was conceived and sponsored only creates further stimulation of growth," he said.

Caribbean Export, a supporter of the Festival and the Bootcamp, has encouraged animators to unite. Gayle Gallop of CE, noted that it was a great initiative for the region. " I want to encourage a regional animation network where all countries of the region can participate. You need to pool your efforts to have workshops such as these" she said.

Of the advice received by the participants, they were reminded of the four Fs – Find the Fun and Fail Fast. That way if one concept fails, the fun factor can be used as a source of energy to find another idea for the drawing board.

The other advice was to have "character and swag" in the work that it identifies as Caribbean. Although the work may have international appeal, there must be some trademarks that identify as Caribbean. The challenge that this first cohort of Bootcampers have accepted is to make it imaginative, Caribbean and Sellable. This group certainly seems up for the challenge.