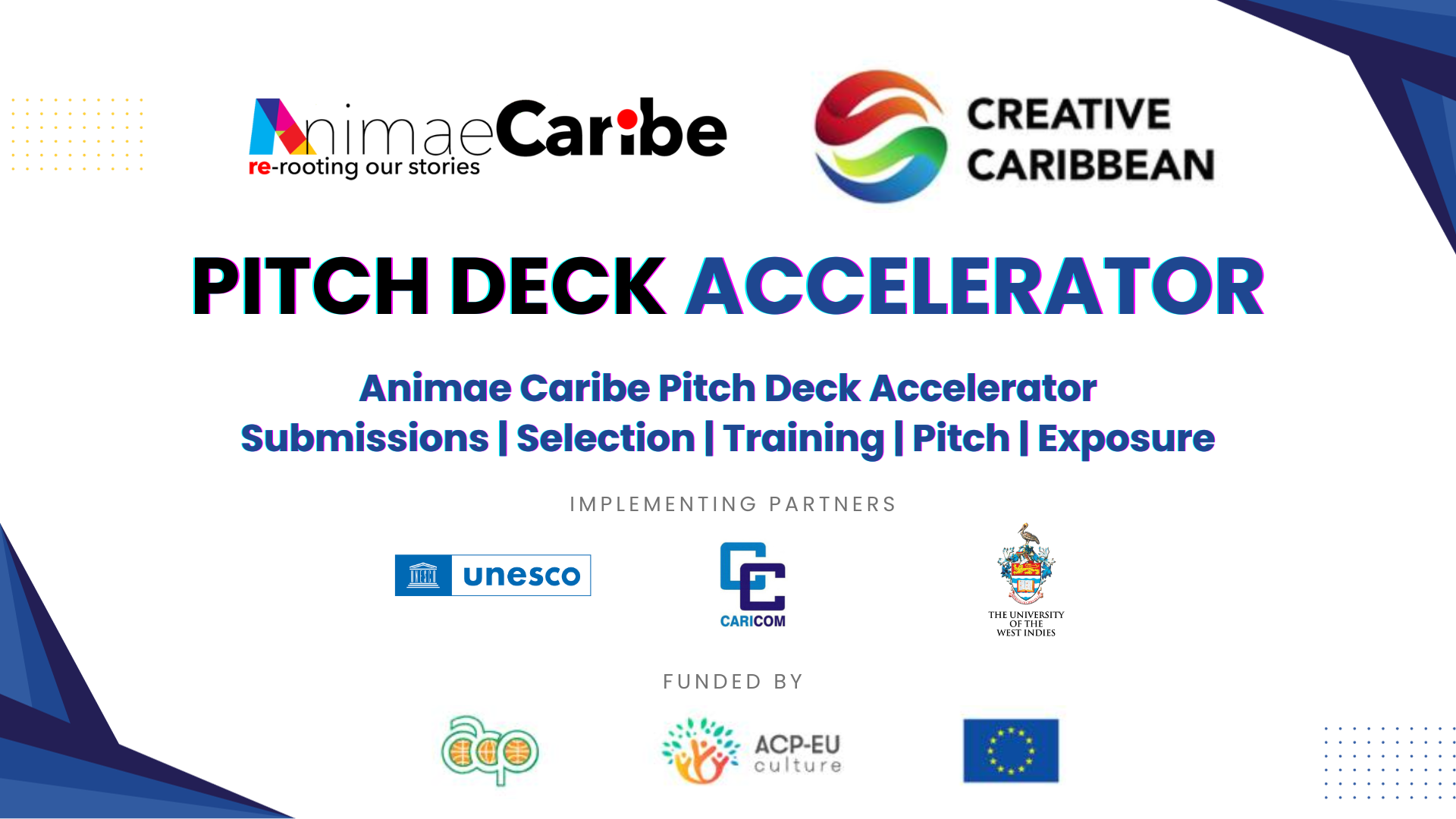 24 Oct

Winners of Animae Caribe Pitch Deck Accelerator – Creative Caribbean
Animae Caribe Pitch Deck Accelerator
Submissions | Selection | Training | Pitch | Exposure
The Animae Caribe Festival will celebrate animated ideas with a Pitch Deck Finishing Accelerator through the Creative Caribbean project funded by UNESCO, CARICOM and The University of the West Indies.
The Animae Caribe Animation Festival has its main objective as to share knowledge and inspire the development of a sustainable animation industry in the Caribbean. It is the largest annual animation festival in the Caribbean and features a plethora of world animation screenings, enigmatic speakers and presentations.
The Pitch Deck Accelerator project was started in July with a Call for participants, it received 58 story ideas from across 6 different Caribbean territories. Ten(10) project ideas have been selected for further selection of the top 5 for further development of their "Pitch bibles" aka – project blueprint.
These animators, writers, actors will participate in the Animae Caribe Festival from October 24 – 28 as the first portion of their development through this project. The festival will include a B2B Tech Xchange which is a networking forum, where the selected persons will have access to three (3) international animation industry executives for 1on1 discussions for the enhancement of their projects.
Ten Projects selected for Development
Cairi – Mathew Hudson
Not Just Justin – Tabeel Arthur
Loup Garou – Arminda Bailey
Everything Irie – Darryl Foster
Coconut Island – George Hay
Burtie – X Gittens, A Adrian, C Small
Relics – S Archer, A Clover
Guava Jam – Pardina S Fessale
Panthera – J Cutting, X Gittens
Agriman – Alpha Sennon
The projects will be mentored by Animation producer Elliott Palmer.
They will then be review by the team for further selection of 5 projects where Preparation of Pitch bringing stories to life with concept illustrations and designs for the Animae Caribe 2024 Catalogue in preparation for global festival tours.